Heating System Services in Orlando, FL
Give us a call today: 407-468-7808
Most people think of Orlando, FL as a place that's always warm and sunny. We do enjoy a wonderful climate here with plenty of sunshine, but that doesn't let us escape entirely without chillier days during the winter. When temperatures drop down into the 50s, homeowners will want to have a way to keep warm that's better than staying under the sheets in bed or hanging around an open oven. Central heating solves the problem, and it doesn't have to be hard to get.
English Air Inc. offers both heating and air conditioning services in Orlando. We're familiar with the best ways to deliver warmth to a Central Florida home without creating massive energy waste. We have a team of professional, polite, and diligent technicians who can offer you a free in-home estimate on a heating system and provide 5-star service every time.
Get the best heating with the Expert's Expert!
[READ MORE +]
Fast Heating Repair in Orlando
One of the benefits of only needing to run a heater for a small part of the year is that the heating system won't accumulate enormous amounts of wear. A heater trying to handle a deep-freeze can start to age quickly because of all the work it does. You won't have as much concern for your heating system in Orlando—but repair needs are always a possibility. When your heater isn't doing what it should, we'll send over a professional to diagnose the system and give you options for how to fix it. We're committed to seeing you have the best repair service possible.
Daikin Fit Heat Pump
The Daikin Fit system is a side discharge, smart HVAC system that won't compromise on comfort and connects to ducted solutions traditional to the unitary market. In a market saturated with expensive high-tiered inverters, this heat pump system provides a premium mid-efficiency inverter at an affordable rate. The low profile of the outdoor unit offers solutions when a traditional cube style cannot.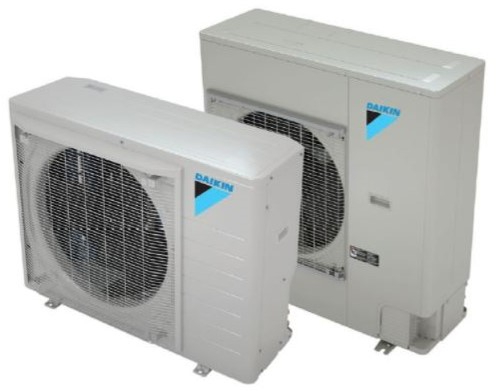 Heating Maintenance for Orlando, FL
We'd would like to help you run into as few heating issues as possible, which is why we've set up our Royal Air Service Club. When you join, you'll receive annual inspections for your heating system and your air conditioner. A friendly and thorough technician will give the heater a complete inspection and tune-up each fall so the system is ready to come on when you need it.
Arrange for electric heating options such as heat pumps with us today. We always charge a fair price for our services with no surprises. Think of us as your local HVAC geeks in Orlando, FL.
Types of Heating Systems for Mild Winters
In some ways, creating central heating for a place like Florida is more complicated than for a place like Minnesota. Homes need to have a central heater, but the heater won't run often during the year. The trick for a heating contractor is to find a system that can provide enough heat for comfort without putting a huge drain on power. This is why we often recommend a heat pump or a ductless HVAC system. Both of these systems offer heating and air conditioning, which is ideal for areas such as Orlando. To learn more about how a heat pump or ductless HVAC system may be a great choice for your home, contact us today!
We've served Central Florida for over 12 years, and we get 99% of our business from referrals. Our customers know we can get the job done for a heating installation or replacement. Let us help you discover how you can effectively and efficiently heat your house.