Indoor Air Quality Services in Orlando, FL
Give us a call today: 407-468-7808
There's more to your indoor air than the temperature. The composition of your air, from biological contaminants to dust, can heavily impact your comfort and lifestyle. When you work with the pros at English Air Inc., we can get you set up with an indoor air quality system in Orlando, FL.
We get 99% of our business from referrals.
We're on a mission to bring excellence back.
Our technicians are professional, polite, and diligent.
We're on a mission to change how homeowners view their indoor air. We want you to take back control and make your home safer, cleaner, and more comfortable.
Call English Air Inc. for effective indoor air quality services throughout Orlando, FL. We're the Expert's Expert!
[READ MORE +]
Air Filters and Air Purifiers Are a Good Way to Start
For a home with too many airborne contaminants swirling through its air, air filtration and air purification systems are the place to start. Almost any house can benefit from an air filter, the most basic type of air quality system. You must be cautious about the strength of the filter, however, since if it's too strong it will place pressure on airflow. Our technicians will ensure you have the right strength filter.
Air purifiers come in a variety of types, such as ionizers and UV germicidal lights. When correctly paired with air filters, air purifiers can eliminate more than 99% of the unwanted particles in a house.
Daikin Premium Air Cleaner
Whole Home Filtration
Go beyond just merely heating and cooling the air in your home, to providing cleaner indoor air to your family. According to The Environmental Protection Agency (EPA)1, it's possible for the air inside your home to be up to five times more polluted than the air outside. With the new Daikin Premium Air Cleaner, protect and prolong the operation and efficiency of your system while delivering improved indoor air.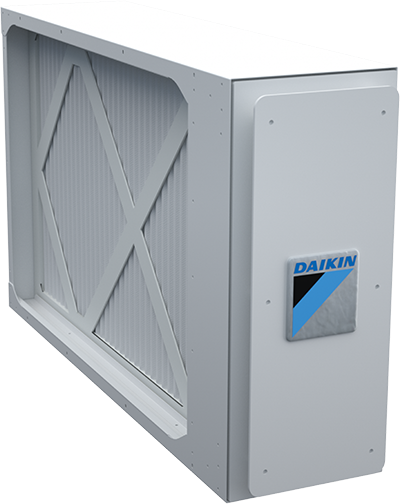 Features and Benefits
The new Daikin Premium Air Cleaner is a MERV 15 media filter that removes more than 85% of particles down to 0.3 microns*
Pleated media filter removes over 98% of Aspergillus fumigatus, Aspergillus versicolor, and Stachybotrys chartarum from the airstream, three common mold spores that are found in homes*
Pleated media filter removes over 99% of Ragweed, over 72% of Cat Dander, and over 73% of Dust Mites from the airstream, three common allergens that are found in homes*
Extra deep, 5" pleated filter constructed of cellulose-free, hydrophobic polyolefin fibers
Designed for multi-position horizontal or vertical installations
Magnetic door design ensures tool-less, easy access to filter components for quick and easy filter changes
Filter design features a structured density gradient for sustained efficiency over the life of the filter
Filter has a tight cabinet fit ensuring negligible air bypass
Filter frame designed with dual pull tabs for easy removal
Fully gasketed door for proper air seal
Heavy duty, 20 gauge, post-forming painted, corrosion-resistant cabinet and door
Insulated cabinet to reduce risk of condensation
All cabinet mounting holes are slotted and designed to lineup with original equipment flanges for time-saving installation
Filter should be changed once or twice a year based on conditions within the home
1: https://www.epa.gov/indoor-air-quality-iaq/inside-story-guide-indoor-air-quality
* Testing performed by LMS Technologies, Inc.
Why MERV Ratings Matter
Developed by the American Society of Heating, Refrigerating and Air Conditioning Engineers (ASHRAE), MERV, or Minimum Efficiency Reporting Value, is a performance standard for rating a filter's ability to remove particles; the higher the MERV rating, the greater the ability to remove particulates.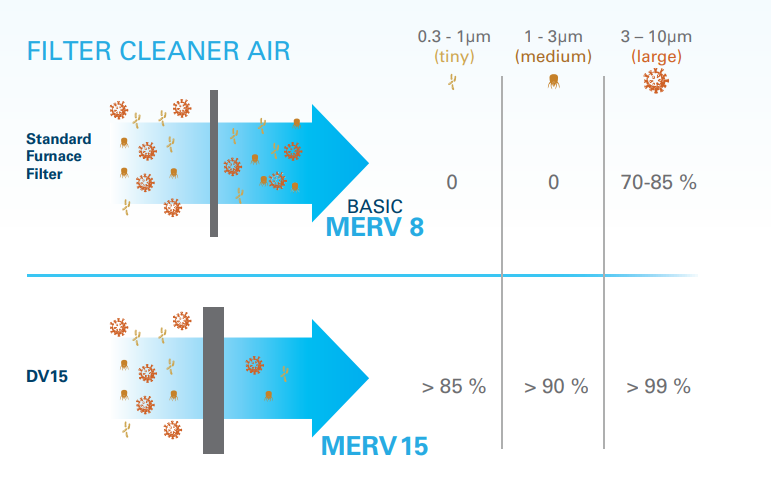 Balancing the Swings in Humidity
High humidity is one of the facts everyone knows about Florida, even people who have never come here. You have to confront intense humidity every summer. But you don't have to confront it in your home if you have the right whole-house dehumidifier installed. A quality dehumidifier will help your household feel cooler and cut down on AC bills. It will also prevent the growth of mold and various health issues.
Florida can struggle with dry air as well during our winters. A house equipped with a good whole-house humidifier can balance out the dry air. This takes the edge off the cold, making it easier to keep the heating system shut off. Dry air also leads to the rapid spread of illnesses, so with balanced humidity you can enjoy a healthier home.
Energy Recovery Ventilators and Much More in Orlando, FL
We have many types of air quality systems to raise your indoor air quality. For example, an energy recovery ventilator or heat recovery ventilator (they work similarly) allows your house to enjoy fresh outdoor air without putting extra stress on either the AC or the heater. Our technicians also provide a number of special IAQ services, including the specialized task of mold remediation in case of water damage.
Don't know how to begin with better indoor air quality in Orlando, FL? Just call English Air Inc. and we'll get you started. We're bringing excellence back.