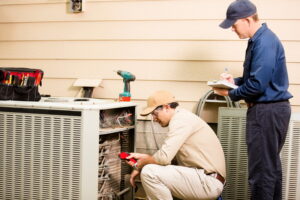 Summer is right around the corner and you want to be prepared. When the weather heats up, we want the only thing on your mind to be soaking up the sun with your loved ones. You should be able to come home to a cool home and this should already be squared away by now. If you're just starting to think about how you can prepare now, then we can help you through the process.
We understand that it isn't always obvious when you need an air conditioning upgrade. Here are a few of the signs that you should upgrade your home's air conditioning in Orlando, FL this season.
This Is When You Should Upgrade
The trouble with an air conditioning upgrade is that it's not always easy to tell when you need one. Here are a few signs that you should take the plunge this season and upgrade.
You've Had Your AC Unit for 10+ Years
If you've had your current air conditioner for 10-15 years no matter what the status of the system is. This is because your air conditioner is only supposed to last around this long. Trying to get your system to last any longer than this will likely result in inefficiency and unsatisfactory operation.
We understand if you're overwhelmed by the thought of air conditioning replacement. If you need help with this, our professionals have the expertise you need.
You're never Cool Enough
Are you always having trouble getting your home to be cool enough? This means that your air conditioner can't handle the capacity needs of your home. This is typically a sign that you're due for an upgrade. We'll guide you through this.
You Spend a Lot on Your Energy Bills
Are you spending a lot of money on your energy bills every month? This isn't a good sign if you're not doing anything that has encouraged a jump in the price. High energy bills point to low efficiency. If your patterns haven't changed, then the status of something within your system has. Replacement might be the right decision for you depending on the severity of the issue.
You're Repairing Your System Frequently
Are you repairing your air conditioner on a regular basis? Frequent repairs are never the sign of a healthy air conditioning system. This is especially true if your air conditioning repairs cost you more and more as time goes on. This is when you need to consider replacement. It's better for your wallet, efficiency, and time.
You Wish You Had an AC Remote To Turn Down the Volume
Have you noticed that your air conditioner makes a ton of noise when it runs? Of course, your air conditioner isn't going to be silent. The sound of it clicking on and off is probably a welcome sound you hear during the summer. If the sounds have upgraded to banging, scraping, rattling or anything else, then it's time to consider other options. If this is an ongoing problem coupled with other issues, then we suggest considering replacement.
Contact English Air Inc. today to schedule an appointment with our professionals. Serving the Greater Orlando Area Since 1998.