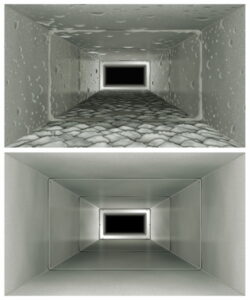 If you're considering getting your ducts cleaned, you're already on the right track. Duct cleaning services are incredibly important if you'd like to keep your air conditioner in proper shape for the upcoming year.
When we bring up the topic of duct cleaning with customers, we're typically met with many questions. If you'd like to get some of your questions answered, then you've found the right blog today. We specialize in duct cleaning in Orlando, FL and we're prepared to tell you all about it. Keep reading below to find out everything you should know…
Why You Should Get Your Ducts Cleaned
This is the number one question that we get from homeowners. There are quite a few reasons why you'd want to have your ducts cleaned. Here are a few of the most compelling reasons:
Better Breathing: Removing all the allergens, dust, and other debris that's lurking in your ductwork will help you breathe a lot easier. If you want to cut out the wheezing, coughing, and snoring at night, then a duct cleaning is a necessary first step.
Lower Energy Bills: There's no reason to pay too much for your energy bills. When you're forcing your HVAC system to run inefficiently (i.e. around the debris in your ducts) then your bills will increase. Routine cleanings help you pay less.
A Cleaner Environment: Getting rid of the dust in your home means less dust and a cleaner environment for you to live in.
How Often you Should Have Them Cleaned
The next question that we get is how often you should have your ducts cleaned. The frequency of your duct cleaning is really dependent on your home. You need to take things into account like how many people live in your home, how often you clean your home, your insulation, your air circulation, and the respiratory needs of you and your family members.
For example, someone who lives in their home alone and only has seasonal allergies will only need annual or biannual duct cleanings. Their needs are fairly mild. Another person who lives with four other family members that have various illnesses like asthma, bronchitis, or severe allergies will need a duct cleaning closer to once a quarter.
We don't expect you to figure out the frequency on your own. Instead, you can get in touch with our team members and we'll help you figure out what you need.
How We Do It
We have special equipment that's designed to get into your ducts, suck out all the debris that shouldn't be in there, and leave your ducts intact. If you want a professional that's going to help you keep your home's indoor air quality high and your team members happy, then you should schedule an appointment with us.
We've worked in the area for over a decade. Our team has the experience, and we make sure that all our team members have the right expertise. Just contact us for the services you need. We'll make sure that things are easy for you.
Contact English Air Inc. today to schedule an appointment with our team members.