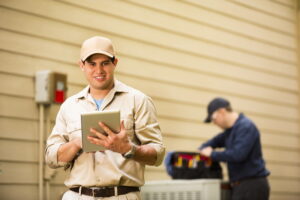 Installing an air conditioner comes with so many different factors to consider. The outdoor pad, the electrical capacity, if your existing ductwork can be used for your new unit. The list goes on, but it doesn't have to send you into a tizzy.
We make air conditioning installation in Apopka, FL as quick and simple as possible, but there are many factors to take into consideration. Let's talk about the expected timeframe for a new air conditioner installation.
Pre-Installation Appointments Help Define a Timeframe
A pre-installation appointment is when a technician comes out to your home and inspects your current AC. It's getting hauled out, but before that, they need to know what the electrical connections are like, if the ductwork is still usable, and identify any unexpected issues before beginning work.
Depending on how simple or complicated the installation process looks to be based on your current setup, your technician will optimize the right steps to make the installation as seamless as possible. While it's important to note that not every potential problem can be unearthed during a pre-installation appointment, this goes a long way toward a clean installation.
The point of this appointment is simple: to give you the most accurate time estimate (and price estimate) for the entire installation so you can properly plan your time around it.
The Time Can Depend on What AC Style You're Switching to
If you currently have a central air conditioner, getting a new central AC system installed is the most simple path you can take. But times are changing, and a lot of homeowners are switching to ductless air conditioning or heat pumps. These take longer to install simply because your current setup doesn't allow for it.
When a new type of system is put into place, there are often more steps involved with the entire process. It may add additional steps or require a complete rework of how your home is cooled, so when that's a possibility, keep in mind that it will lengthen the total time estimate for completion.
Proper Installation Takes Time
The fastest job is often not the best job. There are a lot of steps associated with installing an air conditioner, and there are checks and balances to ensure proper installation through and through. We can assure you that when we install a brand-new air conditioner, we take the necessary steps to ensure safety and the integrity of the installation above all else.
That being said, we respect your time and work to finish the installation in a reasonable timeframe, but will not cut corners for the sake of sticking to a time estimate.
So How Long Does it Take?
For an installation like a central AC replacing a previous central AC, with little to no problems with electrical and ductwork hookups, it may take between 4-8 hours. However, those are ideal conditions.
Transitioning from a central AC to ductless is a much more involved process, and can extend the project timeline by days or even up to a week depending on complexity and how many headers are being installed. Take the AC type into account before you put expectations on the
Contact English Air Inc. today to schedule your air conditioner installation as soon as possible.