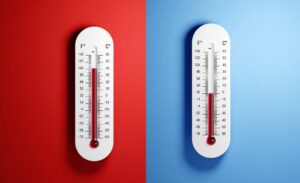 Nobody is excited to pay for heater repairs. While they're inevitable at some point during your heater's lifespan, there are things you can do to try and reduce the number of repairs you'll need until your heater runs its course.
It's important to get heater repair in Orlando, FL as soon as possible so your system is operating at peak performance. After that, follow these tips and tricks to make sure the time between this repair and your next one feels like an eternity.
Don't Set it Too High
Setting your thermostat too high results in massive spikes in your utility bills. If you're not concerned with spending more money (especially if you like your house to run hot), we understand, but there's another reason to keep your heat at a lower setting.
Higher temperatures mean more runtime and harder work for your HVAC systems. This contributes to wear and tear, effectively reducing the lifespan of your heater and forcing it to wear down faster. To avoid more repairs (and more frequent replacements), find a happy medium and don't put your thermostat too high.
Stick to an Energy-Efficient Heating Schedule
Smart thermostats learn what you like based on your temperature settings, and find the most ideal way to keep your home at that temperature without spending additional money and energy.
If you want a hands-off approach, those do the trick. If you're sticking with your current thermostat and don't plan to upgrade, you need to pick a heating schedule and stick to it.
A heating schedule will require you to turn it down during warmer periods in the day and turn your heater on just before it gets too chilly at night. This can save you roughly 10% or more on your annual energy costs, which equates to less strain on your heating system and fewer repairs down the line.
Stay Up-to-Date on Your Maintenance
Maintenance is critical for your heater's longevity. Beyond switching out air filters (which we'll get to in a moment), maintenance serves as a point of inspection.
This helps technicians know what's wrong with your heater, what needs to be repaired so that it doesn't cause a larger problem down the line, and helps keep everything optimized for maximum energy efficiency.
Change Your Air Filters Every 30 Days
Your heater is a forced air system. That means it brings in air through the filter, heats it, and forces it through your ducts and vents to heat your home.
If we interrupt the operation of bringing in air from the start, the entire chain breaks down. Keeping your air filters clean means you're providing your heater with unrestricted fresh air so your system can work to keep you warm.
Keep Your Heater in Good Repair
Your heater has a long life ahead of it. Reduce the amount you have to spend on it by sticking to an annual maintenance schedule, don't stress it out, and by all means, please keep those air filters fresh every 30-90 days. It makes a much bigger difference than most people realize.
Contact English Air Inc. today to schedule your next heater maintenance appointment, or to fix any heater you're having problems with right now.