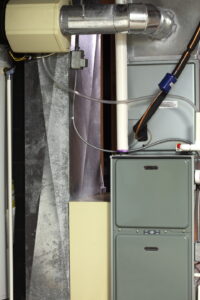 The last thing you want to picture is your heating installation going poorly, but the fact of the matter is that there are a lot of variables. It's one of the reasons why you can't DIY this job or trust amateur installers–you need experienced professionals who know how to handle heating installation in Orlando.
If the process feels straightforward to you and you're wondering how a heater installation could go sideways, strap in. We're about to tell you so you know what to look for.
Improperly Sized Unit
Your heater can be too big, but it can also be too small. You need the Goldilocks approach: it has to be just right if you want it to do its job properly. A heater that's too small may be cheaper upfront, but it will have to run for longer cycles and burn into its wear-and-tear budget a lot sooner than anticipated.
But how could a large heater, one that's arguably too powerful for your home, be a bad thing? These machines not only use more power to operate, but repairs can sometimes be more expensive for higher-performance units. Your technicians will be able to tell what size heater works best for your home based on square footage and available living space, so you know you're making the right choice.
Not Following Manufacturer Specifications
When you buy a new heater, you get a manufacturer warranty. These warranties can last for years, sometimes up to a decade, and cover more than you'd expect. The thing is, they have strict requirements, and it all begins with installation.
If the unit isn't installed properly in the first place, it may void the warranty. This depends on the specific instructions of the manufacturer, of course, and it's something that your installation team should take seriously (like we do).
Finding Bad Insulation
Bad insulation could either mean that the previous insulation that helped your old heater isn't good anymore, or it could mean that there just isn't enough insulation to properly support your new heater. Either way, this is usually uncovered during the pre-installation appointment, but some areas can be hard to determine until the old heater is removed.
If there isn't enough insulation, more can be added, but it increases the scope of the project, and of course the price. Thankfully, we keep fully stocked trucks that help us prepare for the unexpected, but it's still one more road bump in the heating installation process that you might run into. We'll do our best to fix your insulation problems to prepare your new installation.
Installation Day is Approaching
Call us today to schedule your pre-installation appointment and get installation day lined up and ready to go. You know you need a new heater, that it can't wait, and we're equipped to handle the job as soon as possible. We work diligently to ensure these installation problems don't happen when we're on the job.
Contact English Air, Inc. today to schedule your heating installation as soon as possible.