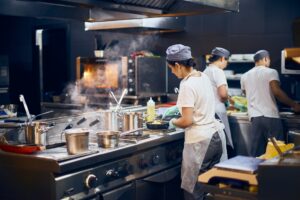 Your commercial HVAC equipment does an absolute ton of work to keep your business cool and inviting for guests. When customers come through, they expect a certain level of comfort, which is completely reasonable.
When your commercial HVAC equipment falters, that comfort is threatened, which could prevent customers from staying in your business. If you're not sure what the signs of commercial HVAC failure are, we'll show you now, then you can book commercial HVAC in Apopka, FL to get it fixed.
When Your Workers Complain
The first ones to tell you that conditions are becoming difficult or unbearable will absolutely be your workers. If your HVAC system runs into problems, they'll be able to detect it before long, especially in establishments that offer food service.
Whether it's noise or a lack of airflow, your employees are encountering a problem that needs to be dealt with. At the very least, you should contact a technician to inspect your unit and see if there's something wrong.
Customers Complain About Noisy Units
The reason that most commercial HVAC units are on the roof is to avoid all the noise that they cause. Especially for your customers. If your air conditioner or heater is noisy enough that it's disrupting guests, it's interrupting their experience.
That's enough of a reason for a customer to leave and not think twice (it really doesn't take much of an inconvenience to them). If it's noisy today, but it wasn't noisy yesterday, it could be a sign of increased mechanical strain.
Since your HVAC unit can make a lot of different noises, it's difficult to say exactly what it is. A commercial HVAC technician will be able to figure it out for you.
Increase in Power Bills
Sometimes you have a busy month and your power bills simply rise, but if you pay close attention to your bills each month, then you'll know when there's a disruption.
Energy bills increasing shows that your HVAC units could be using more power than normal to achieve the same results. This could be due to a lack of maintenance, age, or something simple like clogged air filters that can be switched out quickly.
Moist Atmosphere
While your HVAC unit isn't a dehumidifier, it still pulls moisture out of the air, particularly when you're cooling your business. If you've been in business for a while, you can tell when there's a normal level of moisture in your establishment.
If the humidity level spikes, that's a sign that your HVAC unit is in dire need of repair. It could be struggling just to operate normally, resulting in an uncomfortable environment for your customers and your employees.
Your Business Can't Wait
We understand how imperative it is to keep your business running optimally. Let our experienced technicians help you figure out the problem, repair your commercial HVAC equipment, and restore your customer's comfort as fast as possible.
Contact English Air Inc. today to schedule your commercial HVAC services before you run into a full-scale breakdown.