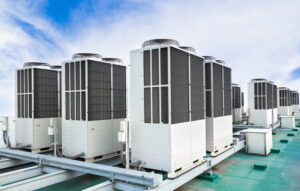 Around here, temperatures never cool down for long. Therefore, it's a good idea to ensure that your commercial property or business that you manage has a fully operational air conditioning system in place.
Maybe your commercial cooling system has been working "just fine," and so you don't see any need to schedule any service for it right now. Maybe you figure it's actually too late for professional commercial AC maintenance.
The truth is, however, that in the absence of a completely irreparable air conditioner breakdown, it's never too late to schedule commercial AC maintenance. Also, just because your commercial air conditioner isn't showing any obvious signs that it's struggling doesn't mean that you shouldn't schedule this important service. Maintenance has a number of benefits that will keep your property's employees, customers, or tenants comfortable, safe, and save you money in the long run. Read on to learn more!
The Importance of Scheduling Routine Commercial AC Maintenance
Professional maintenance tune-ups are something that every air conditioning system needs to have done each year. This is true whether it's a residential or commercial system.
In fact, if you're using a commercial heat pump system instead of the conventional central air conditioner, then you should be scheduling this service every 6 months instead of just once a year. Why? Well, because…
Summer Doesn't Take a Vacation: That's right. For those of us in Winter Park, there isn't a time where we won't need our air conditioners for an extended period. Sure, we have some chilly days—usually in January or February—but then we're right back to needing our cooling systems on a daily basis.
So, you need to be able to rely on that air conditioner consistently operating, especially in a commercial setting.
Skipping Maintenance Hurts Your Bottom Line: If you manage a commercial property or if you run a business, there is plenty for you to worry about without adding the concern about the rising costs of utilities. This can become a concern though, without maintenance.
Generally speaking, every year that a commercial air conditioning system goes without maintenance, it loses about 5% of its efficiency. Professional maintenance, however, helps your system retain up to 95% of its original efficiency rating. This means lower utility bills!
Another way that maintenance helps your commercial space save money is by reducing repair needs by as much as 85%. This is the primary reason that professionals recommend commercial AC maintenance. We don't want your commercial air conditioner to break down on you suddenly, leaving your employees, tenants, and/or customers suffering on an oppressively hot day.
You know as well as we do that our summers are nothing to scoff at, and we want your commercial cooling system to be ready to get you through!
Lastly, professional maintenance will help ensure equipment longevity. A well-maintained HVAC unit, whether residential or commercial, can be expected to retain a useful service life of 10–15 years. Without maintenance, however, that lifespan could be cut in half, leading to a premature system replacement that you may not want to fit into your budget!
Contact English Air Inc. for professional service on your commercial air conditioning in Winter Park, FL.