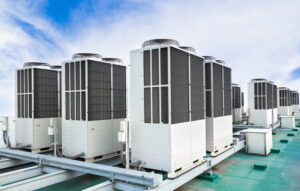 Around here, temperatures never cool down for long. Therefore, it's a good idea to ensure that your commercial property or business that you manage has a fully operational air conditioning system in place.
Maybe your commercial cooling system has been working "just fine," and so you don't see any need to schedule any service for it right now. Maybe you figure it's actually too late for professional commercial AC maintenance.
The truth is, however, that in the absence of a completely irreparable air conditioner breakdown, it's never too late to schedule commercial AC maintenance. Also, just because your commercial air conditioner isn't showing any obvious signs that it's struggling doesn't mean that you shouldn't schedule this important service. Maintenance has a number of benefits that will keep your property's employees, customers, or tenants comfortable, safe, and save you money in the long run. Read on to learn more!