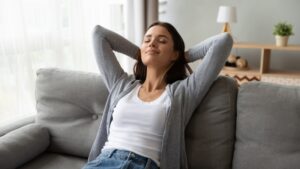 First, what's IAQ? We use this acronym in the HVAC industry a lot, and we all understand it, but what about you? You've likely heard about it, even if you didn't know what it stands for: indoor air quality.
Your home's IAQ can actually be worse than the quality of the air outdoors, without the right products and services in place. With the health concerns that the last two and half years have brought us, it's understandable that you want to make your home as safe and healthy as possible.
One way to do this is with the installation of a whole home air purifier! Read on to learn more about this system and how it can benefit your specific home.
When You Need a Whole House Air Purifier
Doesn't everyone want to be able to breathe the best quality air possible? If so, you should keep an eye out for these signs of poor indoor air quality in your home:
Excessive dust buildup on surfaces.
Increased allergy and asthma symptoms among household occupants.
Colds and illnesses travel easier throughout your household.
The smell of mold, mildew, or mustiness
If you want to know for sure if you need a whole-house air purifier, the best thing you can do is give our team a call to talk about it!
The Benefits of a Whole-House Air Purifier
Perhaps you're tempted to buy a small, portable air purifying unit to use in your home. This will definitely have some impact on your IAQ, but we can't promise to what extent.
If you want to comprehensively address your indoor air quality needs, you'll likely be best off with a whole-house air purifier, whether it's an electronic air purifier, ionization system, or UV germicical lights (or some combination of these).
Here's why these are so beneficial:
They Are Cost-Efficient
Small, portable air purifiers are only able to manage one, maybe two rooms, at the most. Rather than buying multiple portable systems to place throughout your home, a whole-home air purifier can ultimately bring the most cost efficiency.
You don't have to worry about maintaining several units. Instead, you can just worry about one, which is located within your HVAC system and can be maintained by our professionals during your routine HVAC maintenance tune-up sessions.
They Are Convenient
A whole-house air purification system, as we just mentioned, can usually be integrated right into your HVAC system and/or its ductwork. This means you don't have to have any space taken up by smaller, portable air purifiers throughout your home, nor do you have to worry about the noise associated with them.
They Help HVAC Efficiency
The right air purifier will help reduce contaminants that can build up and restrict airflow. Therefore, your air conditioner and heating systems will be able to do their jobs more effectively, and also more efficiently.
Please don't hesitate to reach out with any questions you have about the different types of air purifiers we install and service. Contact English Air Inc. today to learn more about our indoor air quality solutions, such as the installation of an air purifier in Apopka, FL.